In reviewing our demographic group of dog bloggers, I find that there is a surfeit of competing revolutionary movements. Not only do we have the much revered HULA, but we also have the ongoing Blue Bull movement at Ayatollah Mugsy's blog. There is a glut on the market for revolution, and there just aren't enough buyers out there. It's in recognition of this, that the M.U.T.T. movement is going to move underground. Our mission was pure, but I'm afraid I've scratched my itch for soapbox oratory.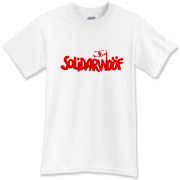 Now, I must reveal my true plot in launching M.U.T.T. In simplest terms, I had some phenomenal ideas for designs for neo-socialist dog t-shirts, and I was developing a lame rationale for them to exist. I like them, and Pappy likes them, and that's all that really matters. I'd still kind of like to do a shirt with the stoic canine proletarian waving the M.U.T.T. flag in front of the dawn of the new order, but that might be a little over the top.

By the way, I got my sample t-shirt from Printfection, and I was very impressed with the result. They were able to print the logo large and well centered on the shirt. I haven't washed it yet, but the colors seemed good and saturated. I'm certainly not embarassed at the prospect of them being sold. There have been two orders since I put up the store, but I suspect it was my brother and his wife.